Daniel "Dan" O'Grady was the former owner of the O'Grady house in North Dakota.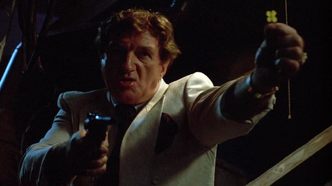 In the film
Edit
In Leprechaun, Dan lived in the farmhouse with his wife for a few years. After returning from Ireland for his mother's funeral, he arrived home in a limousine and boasted to his wife that they were rich. He claimed to have caught a leprechaun in Ireland and stolen its gold but his wife refused to believe him. Dan then went to hide the bag of gold he brought back in a urn under the pretense of it being full of his mother's ashes.
After hiding the gold, Dan returned to the house to discover that the Leprechaun had followed him home and killed his wife. Dan, in a rage, grabbed a four-leaf clover and a gun and began shooting the creature, knocking it out. He then sealed it in a crate using the clover and attempted to burn it alive, but suffered a stroke and collapsed.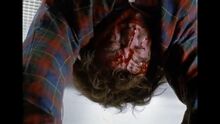 Ten years later, Dan was in a nursing home following his stroke. Tori Redding visited him one evening to tell him of the Leprechaun which had escaped from the crate. She discovered that the Leprechaun had beaten her to O'Grady and savagely attacked him. The dying O'Grady told Tori that to kill a leprechaun, a four-leaf clover must touch it. Dan then died from his injuries.
His death is the dull machete in dead meat's kill count