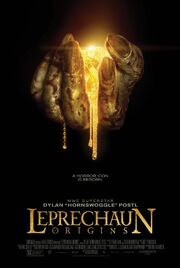 Leprechaun: Origins
is a 2014 American horror film directed by Zach Lipovsky, written by Harris Wilkinson and starring the wrestler Dylan Postl (better known under his ring name Hornswoggle).[1][2] It is the seventh film in the Leprechaun film series and is meant to be a reboot for the series.[3] WWE Studios President Michael Luisi has described the film as "a little darker, a little more traditional horror than the Warwick Davis ones that people remember".[4]  The movie was given a limited theatrical release on 22 August 2014, followed by a VOD on 26 August and a DVD/Blu-ray release on September 30.
Backpacking through the lush Irish countryside, two unsuspecting young couples discover a town's chilling secret. Ben (Dunbar), Sophie (Bennet), David (Brendan Fletcher) and Jeni (Roxburgh) quickly discover the idyllic land is not what it appears to be when the town's residents offer the hikers an old cabin at the edge of the woods. Soon, the friends will find that one of Ireland's most famous legends is a terrifying reality. The four people finds out that the town are really using them as sacrifices to the Leprechaun. The town stole the gold from the Leprechaun and lure people outside the village to be killed by the Leprechaun so the Leprechaun won't kill them. During the night, two evil villagers were killed by the Leprechaun. At the end, Sophie becomes the last survivor and she makes it out. She manages to kill the Leprechaun. Only she finds out that there is more than one Leprechaun. She continues to run.
Ad blocker interference detected!
Wikia is a free-to-use site that makes money from advertising. We have a modified experience for viewers using ad blockers

Wikia is not accessible if you've made further modifications. Remove the custom ad blocker rule(s) and the page will load as expected.